Reducing Urinary Tract Infection Readmissions
This electronic Comparative Billing Report (eCBR) focuses on providers that submit claims for urinary tract infections (UTIs) and experience unplanned hospital readmissions. eCBR information is one of the many tools used by Palmetto GBA to assist individual providers in identifying variation and improving performance. Palmetto GBA is collaborating with MCG Health, a subsidiary of the Hearst Health Network. Our focus is on improving the interactions of providers and payers and facilitating the implementation of evidence-based medicine. The goal is to proactively communicate care guidelines alongside data analysis to increase efficiency and lessen the need for readmission for the same or similar diagnoses.

The information contained in Palmetto GBA's eCBRs and the MCG Care Guidelines will help hospitals and physicians in A/B MAC Jurisdiction M improve their readmission rates. Palmetto GBA currently uses eCBRs as educational tools to give providers insight into their billing patterns and utilization of services. eCBRs are available to Palmetto GBA providers via the eServices provider portal where they can view and download their individual eCBRs. The eCBR displayed includes links to additional education material, including MCG Care Guidelines.
Providers are encouraged to conduct self-audits to compare their performance to others in their respective states and A/B MAC jurisdictions. The collaboration with MCG will enhance the educational information available to both hospitals and physicians and establish a common language via the eCBR platform. Based on Palmetto GBA's experience working with both physicians and institutional providers, this level of communication among physicians, hospitals, and payers will be required to sustainably improve the performance of our healthcare system.
MCG's Inpatient & Surgical Care guidelines provide evidence-based criteria and other tools for efficient review of utilization and documentation of medical necessity, making it a valuable resource for proactive care management and assessment of patients facing hospitalization or surgery. The guidelines are designed to be used in conjunction with a provider's clinical judgment. Please visit MCG's website for additional information at http://www.mcg.com.

For your personalized Urinary Tract Infection (UTI) MCG results, logon to eServices.
Urinary Tract Infection (UTI) MCG category code (M 300) Defined
| | | | | |
| --- | --- | --- | --- | --- |
| MCG Code | Guideline Title | MCG Service Category | MCG Guideline Category | Goal Length of Stay |
| M-300 | Urinary Tract Infection | MEDICAL | URO | Ambulatory or 2 Days |
Methods
The metrics reviewed in this eCBR are the readmission rates under any diagnoses and the readmission rates under UTI diagnoses. A provider is considered to have an all-inclusive readmission when a beneficiary is admitted to a hospital under any diagnoses within 30 days after discharge for UTI. Additionally, a provider is considered to have a UTI specific readmission when a beneficiary is admitted to a hospital under UTI diagnoses within 30 days after discharge for UTI. The readmission rate for all-inclusive diagnoses or UTI specific diagnoses are calculated as the number of readmissions for all-inclusive diagnoses or UTI specific diagnoses, over the number of all admissions during the past six months, respectively. For this eCBR, 'peer group' is defined as other providers in your state or Jurisdiction M (JM) that have billed the grouping of MCG category of UTI.
Example of eCBR Results from eServices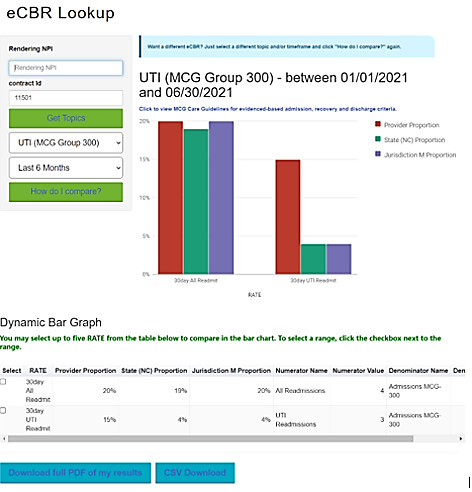 Was this article helpful?