Provider Statistical and Reimbursement: Obtain Access through EIDM
The Centers for Medicare & Medicaid Services (CMS) established the Enterprise Identity Management (EIDM) website as a means for providers to obtain access to several CMS applications. The Provider Statistical & Reimbursement (PS&R) is one such application.
Each provider must enroll two people in EIDM. One will have the role of PS&R Security Official. This person will be requested to submit information about the provider, will set up the access for the provider and then approve other users.

The second person will have the role of PS&R User. The PS&R User can order PS&R reports.
Actions for Each Person
Create an EIDM account
Request access to the PS&R
The following is information on creating EIDM accounts and requesting PS&R access. If there are questions or issues, the help desk for EIDM can be reached at 866-484-8049 (press 2). The EIDM User Guide provides more information and can be obtained from the cms.gov website (enter "EIDM User Guide" in the search box).
Create EIDM Account
1) To access the CMS Portal
Go to https://portal.cms.gov and select New User Registration (refer to red arrow below) Read the Terms and Conditions. Select checkbox, I agree to terms and conditions, and choose the Next button.
Complete the required fields under the Your Information screens and choose the Next button. (Enter your name, date of birth and Social Security number exactly as it is on file with the Social Security Administration.) Choose the Next button.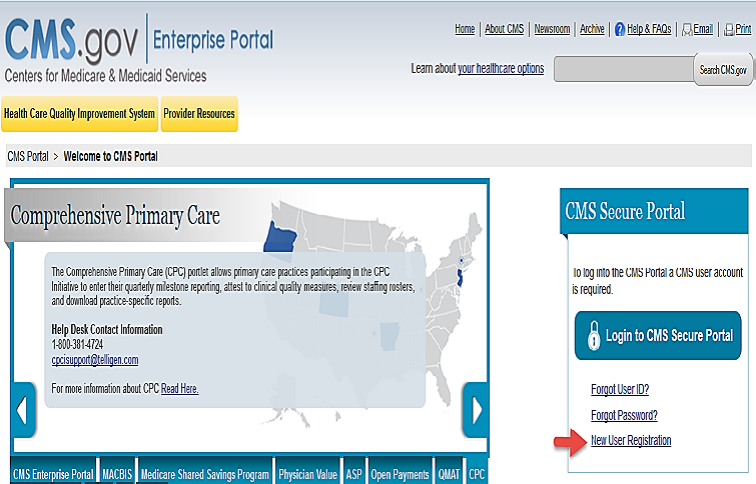 2) Create your User ID and Password (refer to example below).
Your EIDM User ID must be a minimum of six (6) and a maximum of seventy-four (74) alphanumeric characters. It must contain at least 1 letter and cannot contain your Social Security number or any nine consecutive numbers. Allowed special characters are dashes (-), underscores (_), apostrophes ('), @ and periods (.), followed by alphanumeric characters.
Your EIDM Password must be a minimum of eight (8) and a maximum of twenty (20) characters in length. It must contain at least one (1) letter, one (1) number, one (1) uppercase letter, and one (1) lowercase letter. It cannot contain your User ID and the following special characters may not be used: ?, <, >, (, ), ', ", /, |, and &. Your password must be changed at least every 60 days and can only be changed once a day.
3) Select Challenge Questions, provide answers and choose the Next button.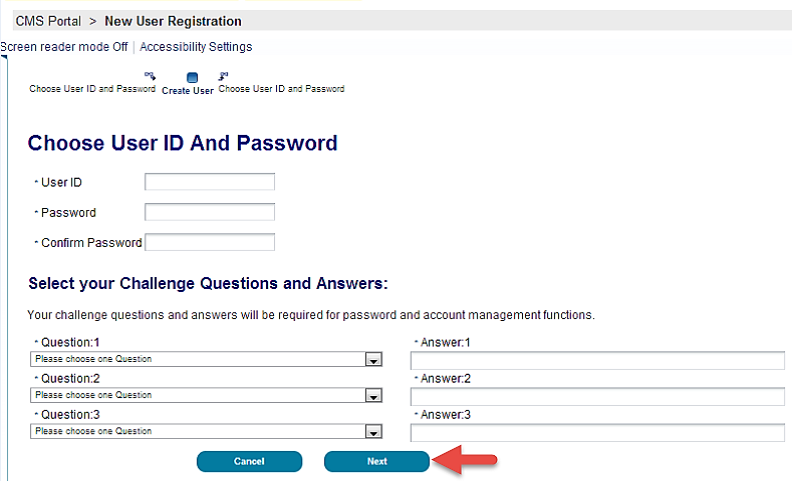 4) An email will be sent from EIDM confirming your registration.
Request Access to the PS&R

1) Upon receiving the confirmation email from EIDM that your account has been created, access to the PS&R Application can be requested.
2) The first person to sign up will become the PS&R Security Official and will be requested to furnish provider number (PTAN or CCN), NPI and tax identification information.
3) Log into https://portal.cms.gov (or click the link in the confirmation email).
4) Select Login to CMS Secure Portal, located on the right side of the screen (refer to red arrow below).

5) Review/Accept the Terms and Conditions and enter your User ID and Password
6) The My Portal screen will appear and in the top right portion of the blue banner line will be
Welcome and your name
7) Select Request Access Now

8) A screen containing small blocks will appear (see below).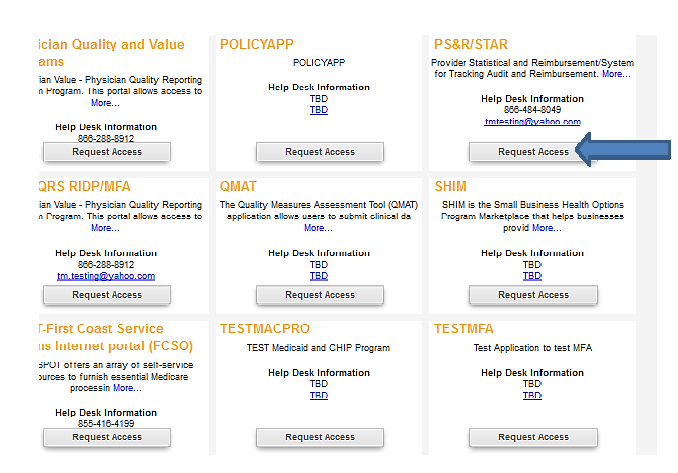 9) Under PS&R/STAR select Request Access.
10) Under Select Group choose Provider Approver.
11) From the Select a Role drop down menu, select PS&R Security Official or PS&R User.
12) Enter the requested information.
13) Review your information on the review page and then submit the request.
14) EIDM provides a tracking number and emails you when the request has been processed.
15) Complete the Identity Verification section (see below) and select Next.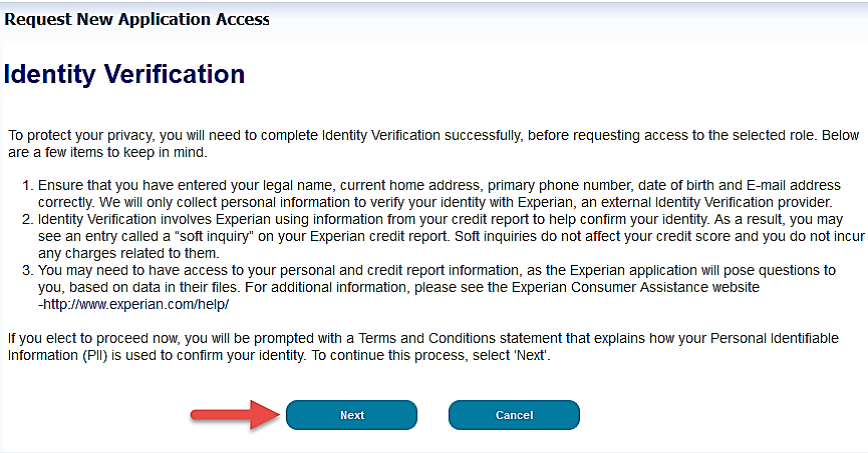 You should then receive confirmation as to enrollment. The PS&R Security Official will be able to approve those that enroll as PS&R User. The PS&R User, after being approved, will be able to order PS&R reports.
For assistance in obtaining access to EIDM go to https://eus.custhelp.com/, refer to the EIDM User Guide or call the EIDM Help Desk at 866-484-8049.
Was this article helpful?