Medicare Beneficiary Identifier (MBI) Lookup Tool
The Medicare Beneficiary Identifier (MBI) Lookup tool allows providers to use our secure eServices online portal to obtain the new MBI number when patients do not present their Medicare card. If you do not already have access, sign up now for access to eServices to use the tool.
As background, the New Medicare Card Project was established in the Medicare Access and CHIP Reauthorization Act (MACRA) of 2015 which mandates the removal of the Social Security Number-based Health Insurance Claim Number (HICN) from Medicare cards by April, 2019. CMS began mailing new Medicare cards with the MBI on April 2, 2018.
Beginning in January, 2020, providers may only use MBIs, with limited exceptions.

To submit an inquiry you must do the following:
Once logged into eServices, click on the MBI LOOKUP tab located in the header of the portal
Complete the required* fields:

Beneficiary's Last Name
First Name
Date of Birth
Social Security Number (Note: the social security number must be in the XXX-XX-XXXX format)

To meet our CAPTCHA requirements, you must select the I'M NOT A ROBOT checkbox
Click SUBMIT INQUIRY
Figure 1: MBI Lookup Tab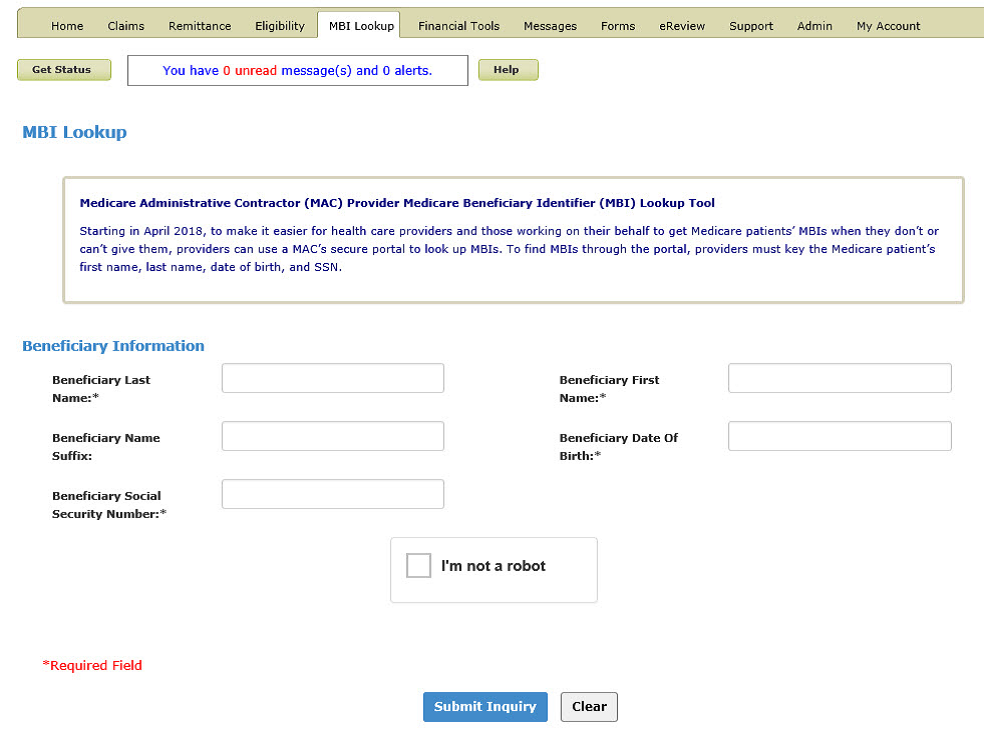 Lookup Tool Status Results
If the inquiry successfully returns an MBI, the screen will refresh with the data at the bottom.
Figure 2: MBI Lookup Successful Response Screenshot

In the event that your MBI Lookup request does not result in a successful response, eServices will display an error message to assist you. If any required fields are left blank or are not in a proper format, a message will appear advising you which fields to correct.
Figure 3: MBI Lookup Unsuccessful Response Screenshot

Check the CMS New Medicare Card Project Outreach & Education webpage for additional information.