Cost Report Filing
Medicare cost reports are required to be filed each year. A cost report normally covers a 12-month period and must be submitted within five months of the end of provider's cost reporting period.
Filing the cost report before the due date is strongly recommended, as:
Filing late — results in payments being suspended
Filing early — establishes a grace period in the event the report is rejected, allowing time to correct and resubmit the report before payments are suspended
Please note that filing a cost report even a few days late, can result in an extended period of suspended payments. Suspended payments are not released until the cost report is received and determined to be acceptable. In busy periods (such as the month of June), it may take 30 days to accept the cost report.

Obtain Access to MCReF
The Medicare Cost Report e-Filing (MCReF) system is provided by the Centers for Medicare & Medicaid Services (CMS) to simplify the process of submitting a Medicare Cost Report. MCReF is a secure portal for the transmission of documents (including PII/PHI). Files uploaded are not to be encrypted or password protected. Benefits of using MCReF:
Electronic signature is accepted
Postage expense is eliminated
PHI is secure
Confirmation of receipt is received immediately
See Medicare Cost Report e-Filing (MCReF) for information about MCReF, plus how to access and use the system. This includes a video overview and a detailed user manual.

Obtain PS&R Report
Providers are required to obtain their own PS&R report(s) for use in preparing the cost report. Please refer to the following articles for instructions on accessing the system and ordering reports.

Standard Templates
To streamline the Medicare Cost Report process, CMS provided electronic versions of key cost report exhibits. By using the CMS provided (optional) version of the exhibits — there should be a reduced need for follow-up communication regarding the cost report submission. Additionally, when filing using MCReF, a provider will receive pre-emptive feedback about potential issues with their exhibits.

Click Electronic Cost Report Exhibit Templates to view the entire article in CMS.gov. This section provides information about the exhibits and the "Downloads" section contains exhibits/templates in an Excel file and specifications/directions in a PDF file. A direct link to each exhibit/template is included below.
Hospital Cost Reports (2552-10)
For cost reporting periods beginning on or after October 1, 2022, hospital cost reports must be filed with listings that support Medicaid Eligible Days (Exhibit 3A), Medicare Bad Debts (Exhibit 2A), Charity Care (Exhibit 3B), and Total Bad Debts (Exhibit 3C). For a description of each template, please review: Standard Templates – Hospital Cost Reports.

To access a CMS provided, standard template — select from the following.
Other provider types: RHC, CMHC, FQHC, ESRD & SNF
The following template for reporting Medicare Bad Debts is provided.
Note: The "Specification document" for each template is in the "Downloads" section of Electronic Cost Report Exhibit Templates.

Submit Cost Report
Providers are encouraged to file the cost report and all documentation through MCReF. If MCReF is not used, cost report can be mailed. However, do not submit through MCReF and mail a copy.
Please review the following in making a submission. And, ensure to include schedules or working papers for reclassifications, adjustments, related organizations, contracted therapists, and protested items.
Please note that all submitted cost reports are subject to a desk review and/or an audit.

MCReF
All files are uploaded, including the electronic signature page
Attach cost report files in their native format
Bad debt lists should be sent in an Excel file format
Mailing
Included a printed signature page so the cost report can be identified
Ensure the cost report is signed (electronic signature is acceptable)
If signing with a pen, use blue ink
Place cost report files and supporting documents on a disk (or flash drive)
Do not send printed copies of the cost report or documents
If sending reports for multiple providers, clearly identify and place files on separate disks
Attach cost report files in their native format
Bad debt lists should be sent in an Excel file format
Limit paper documents to only the signed, signature page (with encryption codes)
Courier Service
U.S. Postal Service

Palmetto GBA
JM Cost Report Acceptance (AG-330)
2300 Springdale Drive, Building One
Camden, SC 29020-1728

Palmetto GBA
JM Cost Report Acceptance (AG-330)
PO Box 100144
Columbia, SC 29202-3144
For cost reports sent through the mail, the date mailed is based on the U.S.P.S. postmark and not the date from a postage machine. If a U.S.P.S. postmark is not on the package, the receipt date will be used as the postmark date.
Medicare issues standard forms for the preparation of provider cost reports. These forms are available for viewing and reference in CMS Publication 15-2, The Provider Reimbursement Manual, Part 2. Below are links to forms by provider type. In opening the link, the form is indicated by an "
f"
at the end of the file name and the instruction with an "
i
."
| Form | Provider Type | Latest Version |
| --- | --- | --- |
| CMS 287-05 | Home Office Cost Statement | |
| CMS 2552-10 | Hospital and Hospital Health Care Complex | |
| CMS 2540-10 | Skilled Nursing Facility (SNF) | |
| CMS 265-11 | End-Stage Renal Dialysis Facility (ESRD) | |
| CMS 224-14 | Federally Qualified Health Center (FQHC) | |
| CMS 2088-17 | Community Mental Health Center (CMHC) | |
| CMS 222-17 | Rural Health Clinic (RHC) | |
Medicare cost reports are prepared in an electronic format using software from a CMS approved vendor (see below). The electronic format consists of an Electronic Cost Report (ECR) file of the cost report and a Print Image (PI) file. Plus, a signature page with encryption codes that matches the ECR and PI files. The cost report can be signed with an electronic signature (with the exception of the Home Office form, CMS 287-05).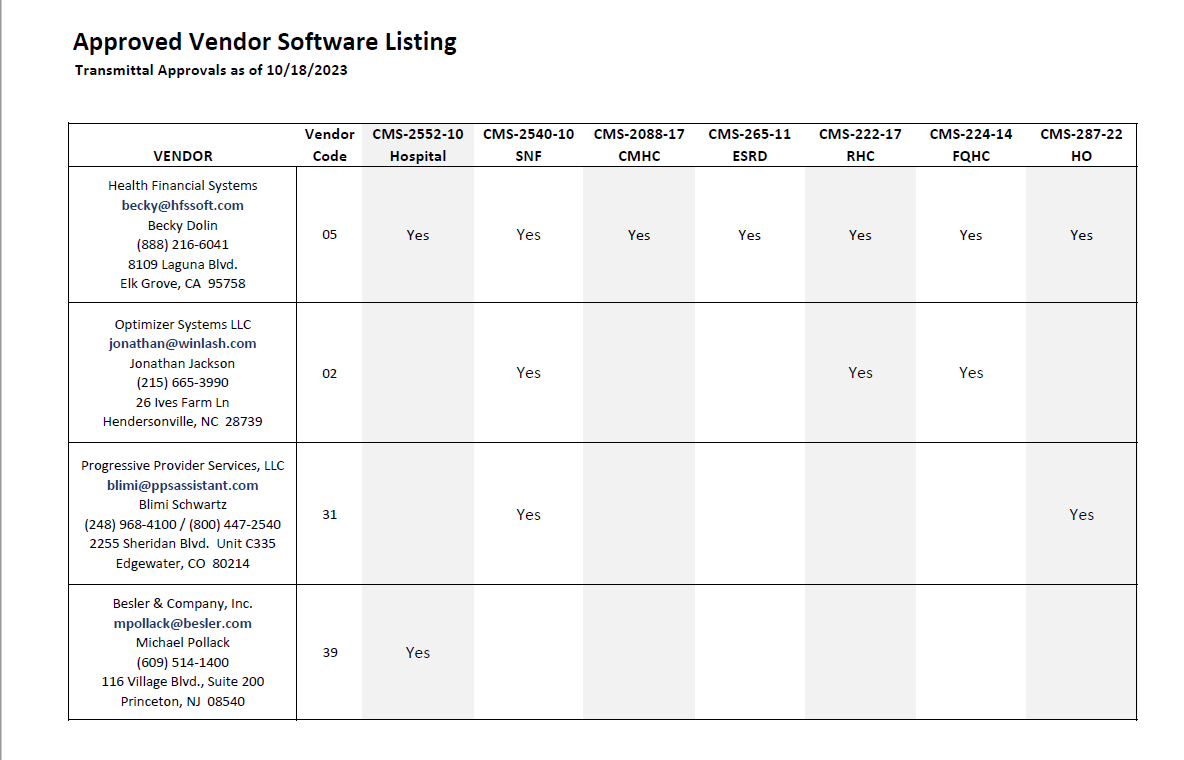 Electronic cost report filing is not required for these less than full cost reports. The documents can be mailed to the address noted above.
No Medicare Utilization — Submit a statement on the agency's letterhead, signed by an authorized official, identifying the MCR period. This must state 1) no covered services were furnished during the reporting period, and 2) no claims for Medicare reimbursement will be filed for this reporting period. In addition, submit the signed worksheet S (certification page) of the MCR.
Low Medicare Utilization — An option if Medicare reimbursement is less than the following thresholds:
Federally Qualified Health Clinic (FQHCs) = $50,000
Rural Health Clinics (RHCs) = $50,000 Community Health Mental Health Clinics (CMHCs) = $15,000 (and no outlier payments reported on the PS&R)
All other provider types (hospital, SNF, HHA, hospice, etc.) = $200,000
Submit the following: 1) page one of the applicable cost report form; 2) signed officer certification sheet; 3) balance sheet; and 4) statement of revenues and expenses.